It's easy to make a large bathroom posh; modern lighting, mirrors and glass everywhere, rich cabinetry, plants and candles, wall art… But what if you want to make a small bathroom look luxurious? If there's no space for all the chic and fancy features, you'll have to work with what you have. And that is perfectly fine with the right kind of tips.
Deep cleaning, great rewards 
First and foremost, decluttering and cleaning. Bathrooms tend to become storage rooms over time, whether for towels, cleaning and hygiene supplies, laundry, or all of the mentioned. Before you can begin to clean, you need to sort through the belongings, remove the excess, and organize the remaining items. Once you clear the clutter, deep cleaning is in order.
While nothing beats the scrubbing, luckily, you've got an ally. You can easily make your bathroom surfaces sparkle with the help of special coating. Look for the one that cleans and protects ceramic, glass, and porcelain surfaces in your bathroom. And make sure that, aside from being affordable, it is safe for you and the environment.
Once your bathroom is clean, inspect it for possible issues as they will be easier to spot. Check for stubborn mold, cracks in tiles, chipped bathtub or cabinets, or peeling paint. Make a checklist and get to solving problems one at a time.
Revive your grouts
If your floor and wall tiles are relatively new and in good condition, great! Point your attention to grouts instead. Nothing will make a small bathroom look luxurious like regrouting. However, you can also clean, repair, or Re-Color your grout lines. Most of the time, cleaning is sufficient, but if your bathroom has not been recently renovated, your grouts might be in worse condition.
Re-grouting comes as a solution for bathrooms in bad shape. The good news is that new grout pastes are better than traditional ones and offer much better protection. Furthermore, grout Recoloring is one of the simplest and most affordable ways to add a brand-new look to your bathroom. An expert will easily choose the right color for the grouting paste and bring out the best from your tiles.
Fix your fixtures
Modernizing your fixtures will quickly add a touch of luxury to your bathroom, regardless of its size. There are so many models in the market that you won't have a problem finding something stylish that doesn't break the bank. Purchase the fixtures of the same style, and focus on simplicity.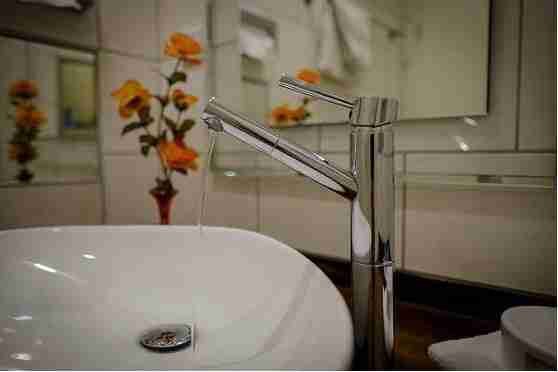 Quite often, the simplest bathroom fixtures are the most elegant.
No-touch taps, aka sensor taps, and water-saving showerheads may be a bit more expensive, but they will make your small bathroom look luxurious, modern, and eco-friendly at the same time.
Bathroom remodeling
Bathroom renovation is one of the things that should be done prior to settling down , especially before the movers place the furniture and carpet inside. If your remodeling plans don't involve physical expansion of your bathroom, get ready for a virtual one. You can throw out the bathtub and install a walk-in shower, an elegant and modern solution for small bathrooms.
Remove the old and place new shallow cabinetry to save space. If you need to change the tiles, extend the floor tiles into your walk-in shower, as it will visually expand the room. When choosing ceramic tiles, make sure you select a larger size for the floor and a much smaller size for the walls. The tone should be light and complement the wall color for an added touch of style.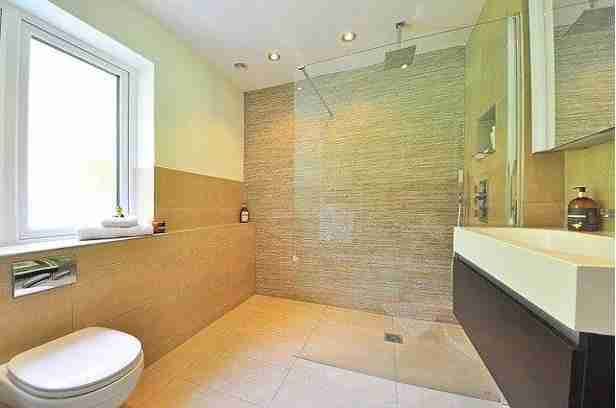 Recessed lighting and glass doors to a walk-in shower – an ideal way to make a small bathroom look luxurious.
The right light
More natural light will make your bathroom appear larger, but not everybody has the option of having a large bathroom window. Luckily, strategically placed lighting fixtures do wonder for small and narrow spaces.
It means you should either use recessed lighting, ceiling lights, or spotlights and avoid pendants in your cozy bathroom. If you don't like the cold bright white LED light, simply choose the LED bulbs in a warm white or yellowish hue.
Mirrors and glass
Transparency of glass surfaces is one of your best allies in a small bathroom. Keep the glass shower doors cleaner at hand, as the mineral buildup will quickly create a haze. Also, consider covering a large part of the wall with a single mirror.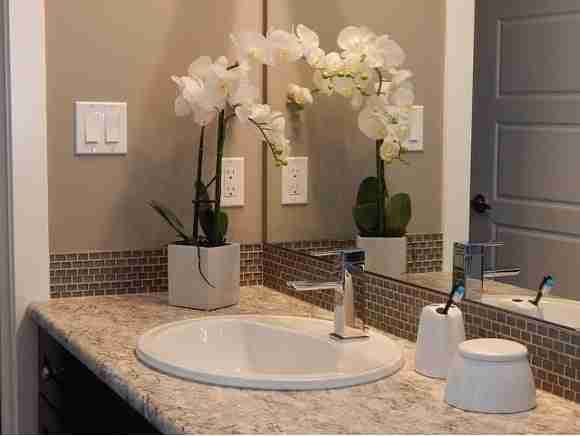 A large mirror will visually expand a narrow bathroom.
Another option is to install hanging mirror cabinets. Nothing makes a bathroom more luxurious and practical than a shallow hanging bathroom cabinet with an LED-illuminated mirror. To save space, opt for the modern cabinet with sliding doors.
Utilize and cut the corners
If you need to change your bathtub, shower, or sink, opt for models designed to fit in the corner. Not only do they save space, but these models are often less expensive. At the same time, they get the job done, save you time cleaning, and look stylish. If you already have such bathroom fixtures but wish to renew them, you can save a lot of money if you simply re-glaze and re-caulk them.
Restore natural stone surfaces
Bathroom counters are often made of natural stone, which quickly loses its shine due to wear and tear. With just a little effort and a  quality stone polishing agent , you can renew your beautiful bathroom granite counter or marble floor and bring back its luster.
Your magically revived marble will be the single most luxurious detail after this simple renovation trick. However, note that this restorative layer is not permanent and will need to be renewed from time to time.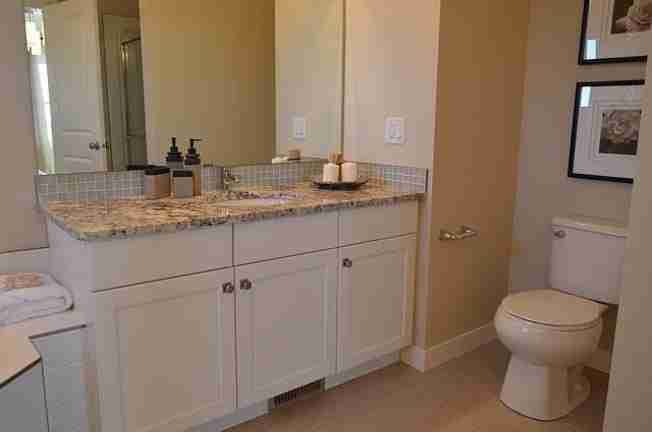 Polishing your marble cabinet top makes for a high-performance budget-friendly solution.
Choose a light reflective paint
It is not enough to choose light paint to visually enlarge space anymore. Modern wall paints come in various tones and sheens, making your choice of ideal wall paint that much easier (or more difficult). Small bathrooms will most benefit from neutrals like white and gray, gentle hues like sea foam blues and greens, and tones like blush.
Ideally, you will complement the color with a semi-gloss, pearl, or high-gloss finish depending on the hue. The sheen of these glossy paints reflects light and will make a small bathroom look luxurious, classy, and more spacious.